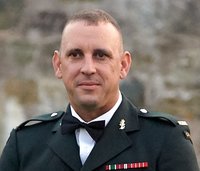 Sgt. McLean, Ryan, Glace Bay
Despite the heroic efforts of our Glace Bay firefighters, EHS, CBR police and staff of Glace Bay General Hospital we have lost our beloved Ryan. Sgt. Ryan McLean, 37, passed away suddenly in an ATV accident on 7 November, 2017.
Ryan is survived by the love of his life, his wife of seven weeks, Cheyenne McLean (Amero); his sons, Jeremey Anderson and Dominic McLean; his loving parents, Eileen Smith-Piovesan (Carter), Tom McLean (Faye); siblings Melanie McLean (Justin Green), Lacey McLean (Calvin Hastie), Carter Piovesan Jr., and Angela Piovesan (Mike Smeltzer); grandmother, Genevieve McLean, nieces, Zoe and Brooklyn, nephew, Ashton; in-laws, Howard and Debbie Amero; numerous aunts, uncles, cousins, and his special furbabies, Tinkerbell and Harlow. In addition to his beloved family, Ryan leaves too many close friends to mention.
Ryan was predeceased by his paternal grandfather, Tom McLean, maternal grandfather, Cecil Smith, maternal grandmother, Jean Long, sister, Lori Piovesan and niece, Ceilidh Edwards.
Ryan Served with the Canadian Armed Forces since, 6 September 1998. He was the I/C (In charge ) of the Maintenance Section for Detachment Cape Breton. His job in the Military was Vehicle Technician under the EME trade (Electrical and Mechanical Engineers). Ryan did service in Afghanistan in 2008 and 2009.
Ryan had a passion for the outdoors and enjoyed many activities with Cheyenne and their large circle of friends. He was genuine, loyal, and reliable in all aspects of life. Ryan's friends depended on him in so many ways, that's the kind of friend he was. He was a knowledgeable, respected leader who knew how to leave work at the door and become the life of the party. Ryan's sense of humour and infectious laugh will be forever missed by all who had the pleasure of knowing him.
To all personnel at the accident scene, Dr. Diane MacLaughlin, and the staff at G.B.G.H, who went above and beyond expectations, we are grateful for all your efforts. Our world forever changed that night and your attempts at trying to keep him with us did not go unnoticed. Thank you.
Visitation will be held on Monday , November 13 from 2-4, 7-9 p.m. in the V.J. McGillivray Funeral Home, 16 Reserve Street, Glace Bay. The funeral service is Tuesday at 2 p.m. in the Sydney Garrison, Victoria Park, followed by a reception. Cremation to follow after the service.
In lieu of flowers, donations can be made to:
https://woundedwarriors.ca/
http://laanimalshelter.ca/donations/
http://www.pawsfurthought.com/contact-us.html
On line condolences to the family can be expressed at: www.vjmcgillivray.ca
"It's not the length of life, but depth of life."~Emerson