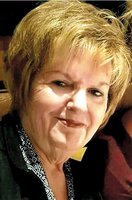 Helen Perez: Glace Bay
We are saddened to announce the passing of Helen (O'Handley) Perez, age 70, who passed at her home on November 26th, 2017 surrounded by her loving family after a brief illness. Born in Glace Bay, she was the daughter of the late John Malcolm and Clara (Bennett) O'Handley and was a member of Immaculate Conception Church.

After graduating at MacDonald High School, Dominion, she moved to Boston where she enjoyed working with children and adults who were developmentally disabled. She was the Foster Mother to over 80 girls before moving back to Cape Breton. She attended the Cape Breton University and Saint Thomas University where she earned her advanced degree in Adoption Social Work. She went on to work with Mi' kmaw Family and Children's Services, where she brought many families together. For those of us that knew her she never felt like it was work, because she loved what she did.
Helen was the wife of the late Edilio Perez, and is survived by her four daughters, Lisa Sullivan and her husband James, Cheryl Demers and her husband Ronald, Jennifer Perez Rounds and her husband Christopher, and Lisa Marie Chown. Her two surviving brothers Hank and his wife Carolyn O'Handley, and Cal O'Handley, four sisters Bev and Neil Matheson, Cathy MacIntyre, Rita and Lorne MacPherson, and Clara and Keith Wadman. She is also survived by five grandchildren Cameron, Cayla, Matthew, Thomas, Daniel and many nieces, nephews and friends.
Besides her parents and husband, Helen was also predeceased by three brothers Jack, Tommy, and Allie, two sisters Selena Poulin, Elaine Campbell and brother-in-law Ronald MacIntyre.
The family wanted to give special mention to a family that held a special place in Helen's Heart. The MacCormack's, Kathleen and Lloyd and their beautiful children Daina and Gary Basso, Luke, Kathleen, Bobbi-Boo and Little Lloyd.
Cremation has taken place under the care and direction of V.J. McGillivray Funeral Home, 16 Reserve Street, Glace Bay.
Visitation will be held Wednesday, November 29, 2017 from 3-7 pm, at V.J. McGillivray Funeral Home.

The Funeral Mass, celebrated Fr. Daniel Boudreau will be held 11 am Thursday, November 30, 2017, in Immaculate Conception Church, Bridgeport. Interment will follow in the parish cemetery.
All are invited to join Helen's family at a reception in the church hall.
Memorial donations in Helen's memory may be made to Mi' Kmaw Family and Children's Services of Nova Scotia-adoptions:
76 Logan Dr
ESKASONI, NS B1W-1A2
Online condolences to the family may be expressed at: www.vjmcgillivray.ca