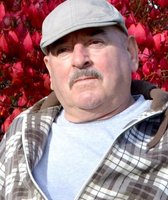 Anthony 'Tony' Tighe, age 72, New Victoria
Tony Tighe, 72
New Victoria
Our hearts are broken as we announce the passing of our wonderful husband, dad, grandfather and brother, Anthony `Tony` Tighe on March 22, 2018 at the Cape Breton Regional Hospital with his loving family by his side
He leaves behind his soul mate and wife of 50 years, Elaine (Gillis) Tighe ; his son and best friend, Tony (Tracy) Tighe; daughters, Tammy (Frank) MacNeil, Tiffany Tighe (Tommy Brushett), his seven beautiful grandchildren, Lainie, Lena, Tony Jr., Abby, Jessie, Jacob and Maggie; his many nieces and nephews who he held dear to his heart, special mention to Teddy McRury and John Hinchey.
Also left to mourn are his loving sisters, Verna Lovell, Anna Currie, Catherine McRury, Lovie Murphy, Agnes Kelly, Anita (Winston) MacKenzie; brothers, Harry (Stella) Tighe, Vincie (Lorraine) Tighe, sisters and brothers -in- law, Polly Tighe, Colleen Tighe, Mary Tighe, Colleen Tighe, Agnes Gillis, Lynn Grenier, Genevieve Boudreau, Aubrey Gillis.
Tony was predeceased by his parents, Jack and Lena (Turnbull) Tighe, his sisters, Victoria, Willena and brothers, Tommy, Eddie, Jamsie, Jackie and Francie; his brothers and sisters- in-law, Horace Lovell, Mike Currie, Don McRury, Buddy Kelly, John L Murphy, Billy Hinchey, Bernie Corbett, Carmel Tighe, Anita McIsaac Tighe, Anne Burns, Addie Gillis, Raymond Gillis and Earl Gillis.
Tony was a proud member of local 682 Plumber and Pipefitters Union for 50 years. Through his many years of travelling on the road he made many friends and lots of great memories.
Tony was a great story teller and singer. He was generous to a fault and his wit and charm left everyone feeling good. He was a 'gem of a guy'. We will love him forever and will never forget his smile that lit up a room.
Special thanks to Dr. Brake, Dr. Landry and the staff at Cape Breton Regional Hospital and to Dr. Lange and the entire medical staff at New Waterford Consolidated Hospital for their commitment and compassion as they treated us all like family.
In his own words 'top of the Morning to you and the rest of the day to myself.'
Cremation has taken place. A Funeral Mass will be held at the Parish Church of St. Leonard on Tuesday March 27at 10 am with Fr. Ray Huntley officiating. Burial will be in St. Josephs Cemetery, New Victoria, with a luncheon to follow at Army Navy Air force, Unit 217, New Waterford. Arrangements are under the care and direction of V.J. McGillivray Funeral Home, 380 Smith Street, New Waterford.
In lieu of flowers, donations can be made to the Salvation Army.
Online expressions of sympathy may be sent to the family at: www.vjmcgillivray.ca.