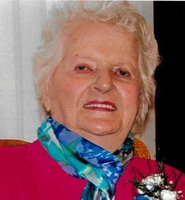 Florence Ann MacDonald, Bridgeport 104
It is with sadness that the family of Florence Ann MacDonald announces her passing to eternal life on March 25, 2018. Born on May 2, 1913 in Little Judique, Inverness County, Florence came to Bridgeport 80 years ago upon her marriage to the late Neil D. MacDonald. She had never forgotten her roots and was very proud of her Celtic background with its music and dance. The daughter of Alexander Livingstone and Isabel (MacDougall) Livingstone, Florence was the last surviving member of her family. Her children include Allan (Betty), Calgary, the late Faustina (the late Greg) MacDonald, Fr. Tim of the Friars of the Atonement, Toronto, Marlene (Jim) MacDonald, Halifax, Isabel (Tom) Andriuk, Masstown, Dolena (Barclay) Neville, Sydney, Rachel, Sydney, Hugh (Colleen) Bridgeport.
Florence's children, grandchildren and great-grandchildren relished in the stories she told of her younger years, especially those spend on the farm that gave them a unique window into a bygone era. Mom was a loving grandmother to nineteen grandchildren: Sandra (Doug Porter), Brenda, Greg, Tim (Vanessa), Andrew (Rose), Anne (Chris Halfyard), Neil (Tanya), Sandy, Terrence (Dayna), Thomas Shane (Vaneesa), Christopher, Mary (Darren McKenzie), Vincent (Ellen), Andrea (Johnny), Patrice (Adam Martin), Charles (Melissa), Rory, Lanny and Cameron. She was a loving great-grandmother to great-grandchildren including Bailey, Luke, Madison, Thomas, Andrew, Michael, Richard, Dylan, Caelum, Kendra, Charlotte, Stephen, Grace, Isabelle, Matthew, William, Lily, Elena Clare, Madison, Cameron, Madelyn, Heather and Leoné. She was great-great-grandmother to Alayna Rose.
Mom took great pride in being a homemaker and dedicated all her energy towards making a home that was comfortable and nurturing for all. All who knew her will remember sitting down in her kitchen and partaking of her apple or lemon meringue pie with a good cup of tea. Her children will not readily forget the wonderful meals she prepared and set on the dining room table.
Florence was predeceased by one child at birth, one grandson, Paul Andriuk, and by her eldest daughter, Faustina last November. She was predeceased by one sister, five brothers and their spouses: Catherine (Tim Toohey), Alex (Marion), Jack (Kaye), Ignatius (Phyllis), Neil (who was Florence's twin), and Colin (Betty).
The family wishes to extend its gratitude to the staff of New Waterford Home Care and the VON for their care of their mother when she lived at home. Our thanks go to Janie, Hughena and Corinne who spent many hours sitting with Mom. We would also like to thank the nursing and continuing care staff at Taigh Na Mara for their care and kindness during her two and a half year stay. We thank Dr. James McLean for overseeing Mom's medical care. Finally the family would like to thank Dolena and Rachel for their unswerving commitment to the task of caring for Mom in these last number of years.
Visitation will be held on Tuesday evening from 6-9 pm. at V.J. McGillivray Funeral Home, 16 Reserve St, Glace Bay .The Mass of the Resurrection will be celebrated by Fr. Timothy MacDonald, S.A. at Immaculate Conception Church, Bridgeport on Wednesday, at 11 am. Burial will take place next to her husband, Neil, in Calvary Cemetery.
Memorial donations may be made in Florence's memory to the St. Vincent DePaul Society or Calvary Cemetery.
On line condolences to the family can be expressed at: www.vjmcgillivray.ca
May God fill your heart with peace and lead you to eternal life. Amen