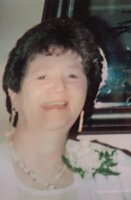 Noel Ann Hogan, Scotchtown
It is with deep sadness that we announce the passing of Noel Ann Hogan, 71, of Scotchtown on Tuesday, March 27, 2018 at the Cape Breton Regional Hospital, Sydney.
Born in New Waterford, she was a daughter of the late Michael and Leona (Copan) MacLellan.
Noel was a member of the New Waterford Pensioner's Club. Her pride and joy were her grandchildren and great-grandchild whom she loved having for sleep-overs on the weekend. She was also an avid bingo player who never missed a Thursday or Sunday with her best friend Vicky. During the day, Noel loved watching Dr. Phil and in the evenings, she would stay up all hours chatting on the phone with her sisters Jean or Diane. She will be sadly missed sitting at the end of her kitchen table sipping on tea.
Surviving are her children, Charlie Hogan, Louisbourg, Sheila Hogan, New Waterford and Patricia (Danny) Durando, Reserve; sisters, Jean Murphy, Diane MacLean, Norma( James Wally) Ranson,Halifax and Jeannie Crendall; brother, Dan MacLellan; grandchildren, Kevin (Sarah), Santana, Brittany, Dakota, and Colby; great-grandchild, Brooke Emma.
Besides her parents, she was predeceased by her husband Charles Hogan, whom she missed dearly; brothers, Charlie, Mikey, Billy, Martin and Sandy; sisters, Leona and Mary; brother, Billy and sister, Milley in infancy; a little angel who was taken at birth, her great-grandson, Ryder Daniel Charles Hogan.
Visitation will be held on Friday, March 30, from 4-8 p.m. in V.J. McGillivray Funeral Home, 380 Smith Street, New Waterford. A funeral service will take place on Saturday, March 31, at 10 a.m. in the Parish Church of St. Leonard, Mount Carmel Avenue, with Father Ray Huntley officiating. Burial will be in St. Michael's Cemetery, River Ryan. Online expressions of sympathy may be sent to the family at: www.vjmcgillivray.ca.