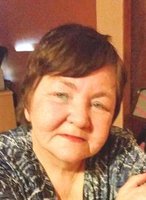 Agnes Maurina Stubbard, Glace Bay
Maurina Stubbard age 65 of Glace Bay peacefully passed away with her loving family by her side on Tuesday, March 27, 2018 at the Glace Bay Hospital.
Born in Glace Bay, she was the daughter of the late Roderick and Isabella Frew (McWhirter) Stubbard and was a former member of St. John's Parish, Glace Bay.
Murina worked 20 plus years for Highland Fisheries and later for Ka'Le Bay Fisheries both in Glace Bay until her retirement in October, 2017.In her spare time she enjoyed watching Coronation Street and spending time line-dancing with her friends.
She is survived by her daughter, Connie (Wayne) Wrathall, Dominion; son, Fred (Stella), Glace Bay; brother, Erville (Mary "Billy"), Reserve Mines; sisters, Carol (James) Williams, Glace Bay, Velma McNeil (Al Burke) , Reserve Mines, Isabel (Andrew) Donovan, Reserve Mines. She will also be sadly missed by her three grandchildren, Kiley, Jamie, Mason; three step-grandchildren Jennifer, Kristen, R.J.; five step-great-grandchildren; numerous friends especially Bonnie (Allie) McNeil and Vivian Boutilier; several god-children, nieces and nephews who she dearly adored and her furry friend Maggie.
Besides her parents, Maurina was predeceased by her brothers, Shelly,George; sisters Marion Saccary, Josie Timmons, Lillian Paulin, Gerry Turnbull and nephews, Sgt. Jimmy McNeil, Rod 'Tub' Stubbard and niece Wanda McNeil.
There will be no visitation, cremation has taken place.
The funeral service presided by Fr. Norman MacPhee will be celebrated 11am Monday, April 2, 2018 and will be immediately followed by a reception, all in V.J. McGillivray Funeral Home, 16 Reserve Street, Glace Bay.
Memorial donations in Maurina's memory may be made to the Canadian Diabetes Society.
At this time we would to give a special thank you to Dr. O'Brien and all of the other doctors and nurses of 3 south at the Glace Bay Hospital for their compassionate care and their sincere concern.
Interment will be at a later date in St. Joseph's Parish Cemetery.
On line condolences to the family can be expressed at: www.vjmcgillivray.ca