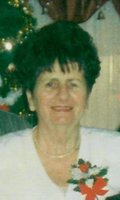 Janette MacDonald; New Waterford
It is with deep sadness, that we announce the peaceful passing of our loving mother, sister, grandmother, aunt and friend. Janette, age 84 passed away on Thursday, April 5, 2018, at the Maple Hill Manor, New Waterford.
Born in New Waterford, she was the daughter of the late Rannie "Taxi" and Rose (LeBlanc) MacDonald. She was a lifelong resident of New Waterford and a faithful member of the parishes of Mt. Carmel, St. Agnes and most recently St. Leonard; while a member of these parishes she was also very active in the CWL and the church choirs.
Janette will mainly be remembered for her love of her family and music; she truly enjoyed spending time with her sons, their families and her friends. She was a great homemaker, a job she truly enjoyed; she was a founding member of the mothers of New Waterford Minor Hockey and in her earlier years she was an avid bowler. In her spare time she enjoyed playing the piano at home with her family or at local functions that were organized for fundraising. She was also a huge fan of harness racing and was a dedicated volunteer who canvassed door to door for numerous years collecting donations for different charitable organizations. For over 60 years, Janette was a member of a Monday night women's group, known as "The Club"; meeting weekly at their individual homes where they enjoyed playing cards, conversations, luncheons and making life-long friendships.
She will be sadly missed by her two sons; Sheldon (Cathy), River Ryan and their children Ryan, Kelly (Carter), Kerrie and her son Randy, New Waterford and his children Brittany (JR) MacEachern, Bethany (Brandon) and Breton (Melissa). She will also be sadly missed by her brother Russell, New Waterford; her best and long-time friend Marjorie Mason, New Waterford; sister in-law Marilyn MacDonald, Ont., numerous nieces, nephews, in-laws and friends.
Besides her parents, she was also predeceased by her loving husband Alex "Mabou" MacDonald and her brother, retired RCMP officer Alex MacDonald, Ont.
Visitation will be held tomorrow, Sunday, April 8, 2018 from 2-4 and 7-9pm in the V.J.McGillivray Funeral Home, 380 Smith Street, New Waterford.
The Funeral Mass, officiated by Fr. Ray Huntley will be celebrated 10am Monday, April 9, 2018 in St. Leonard's Church, Mt Carmel Ave., New Waterford; interment will follow in St. Agnes Cemetery, New Waterford
All are invited to join Janette's family at a reception in St. Leonard's Parish Hall, Convent Street, New Waterford.
Memorial donations in Janette's memory may be made to Alzheimer's Society.
Online expressions of sympathy may be sent to the family at; www.vjmcgillivray.ca