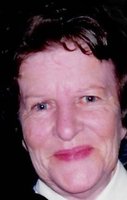 Doreen MacDonald, New Waterford
Doreen MacDonald
New Waterford
It is with deep sorrow that we announce the passing of our beloved mother, sister and grandmother, Doreen MacDonald on April 9, 2018. She passed as she lived, peacefully and quietly.
Born in New Waterford on Feb 28, 1934 she was the second oldest child of Newfoundland Joe and his Newfoundland bride, Annie Mae (Power) MacDonald.She was very proud of her Newfoundland roots.
In 1942 ,the siblings had grown to five when their father was tragically killed in a mining accident at # 16 colliery. Thus began our mother's lifelong journey caring for others.
From the age of eight onward, she balanced helping her mother raise the family while going to school.
Never letting go of her passion for education ,she graduated from Mount Carmel High School top of her class in math, english and latin. She then went on to graduate from Business College in Sydney.
Shortly after, she met a handsome Inverness'er, Alex MacDonald.
She worked for a period with the CNIB and the T. Eaton Company until 1957 when Alex and Doreen married.
By 1962, she was working the most notable career of her life, being a mother to her three children. We were raised with a fair but steady hand. She insisted we learn what was important but allowed us to experience what was not. Knowing right from wrong was crucial in her classroom but she understood that making mistakes were a part of growing up and she accepted that, always quoting her famous line " as long as you've learned a lesson". Every choice we made was a teaching moment in her eyes. All of our success is the result of her and we will feel the absence of her patience, love, wisdom and guidance forever. Jeopardy will not be the same without her.
An ever present grandmother ,she was immensely proud of each child's academic and career accomplishments taking great pleasure in being part of their journey. She provided all of their favorite things and offered sound advice in a home filled with comfort and joy. All of life's questions could be answered with one simple phone call to Nannie Doreen.
To the very end she continued to put her family first.
A faithful parishioner of Mount Carmel Church all her life, she will be missed in the back seat.
Mourning their loss are her children, Cathie Chiasson, Sydney, Debbie MacDonald, River Ryan, Joe (Diana) MacDonald, Mahone Bay; sister, Esther MacDonald, New Waterford; brother, Bernie MacDonald, New Waterford. She will forever be remembered by her granddaughters, Brianna (Brodie), Kelsey (Nik), Dana, Caylee ;her grandsons, Brayden, Evan, Cameron and her great-grandchildren, Lily and Oliver.
Our mother was very blessed to have Margie (Campbell) Strang as her kind, loyal, neighbor and friend since childhood.
We were equally blessed to have neighbors; Terry Banville and Charlie Hart become her guardian angels after our father's passing. We are eternally grateful for their kindness shown to her and the peace of mind they provided for us.
Besides her parents, Joe and Annie Mae MacDonald, she was predeceased by our father, Alex in 2005, brothers, Cyril and Ann MacDonald, Douglas and Marion MacDonald and two sisters in infancy, Vera and Catherine.
At her request, there will be no visitation. Arrangements are under the direction of V.J. McGillivray Funeral Home, 380 Smith Street , New Waterford.
A funeral mass will be held on Saturday, April 14, 2018 at 10am in the Parish Church of Saint Leonard, Mount Carmel Avenue, with Fr Ray Huntley officiating.
Interment will take place in Mount Carmel cemetery. All are invited to join the family at a reception in St. Leonard's Parish Hall, Convent Street, New Waterford.
In lieu of flowers, donations may be made to Nora's House c/o Father Huntley, Parish of St Leonard.
Our lives are forever changed without you but we are able to smile knowing that tonight the Newfoundland fiddles are playing and the Gaelic humour is flowing as you make your way home. Till we meet again; it was a privilege to call you "Ma".
Online expressions of sympathy may be sent to the family at: www.vjmcgillivray.ca