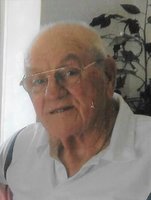 Alfred "Punch" Proctor, Guelph, Glace Bay
Alfred 'Punch' Proctor
Guelph, Ontario / Glace Bay
Alfred ' Punch' Proctor, age 84, passed away on Friday, October 19th, 2018 in Guelph , Ontario.
Born in Glace Bay, he was the son of the late Harold and Mary Catherine (Murray) Proctor.
Prior to moving to Ontario, he was a member of Holy Cross Church and Holy Cross School.
In his younger years he was a boxer. Alfred was employed with Datten Steel Company, in Guelph, Ontario. He also belonged to Alcoholic Anonymous for 50 years; where he was a guest speaker on many occasions.
Alfred will be missed by his sisters, Theresa, Liz, Margie (Joe); brothers, James (Barbara), David and Francis (Pete), Guelph, Ontario and many nieces and nephews.
Besides his parents, he was predeceased by his wife, Eileen three years ago; brothers, Joey, Michael; sisters, Mary June and Donna Rose.
A celebration of Alfred's life will take place on Friday, November 2nd, 2018 in Guelph, Ontario.
Online condolences to the family can be expressed at the V.J. McGillivray Funeral Home website, Glace Bay: www.vjmcgillivray.ca