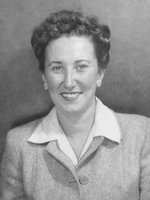 Lorraine Lamey, New Victoria
After a long life, we regret to announce the peaceful passing of Lorraine Marina Lamey, age 93, on Monday, October 29, 2018 at the Maple Hill Manor in New Waterford.
Born in New Victoria on Nov. 27, 1924, she was the eldest child of the late Guy and Tena Ratchford. She married George Lamey of New Victoria and they enjoyed 65 years of marriage before his death in 2013.
Lorraine is survived by her three children, Brian (Maria), Anita Zemlyak (Frank) and Guy (Jennifer); grandchildren, Christina Lamey and Patrick (Lana) Lamey; three great-granddaughters, Madelyn Williams and Claire and Taylor Lamey; two step-granddaughters, Rosalee Carr and Rebecca Parks; many nieces and nephews; brother, Murray (Donelda) Ratchford, Trenton, ON.
Lorraine was predeceased by her husband, George; brothers, William (late Vange), Claude (Carol) and Russell Ratchford; sisters, Mary (late Fred McDonald) and Betty (late Charlie Labinowicz); brother-in-law, David (late Madeline) Lamey; sister-in-law, Lillian (late John) Campbell; two sisters in infancy.
In her early years, Lorraine was employed at the Royal Bank in Sydney and later at Louie Allen's Grocery Store. She was an accomplished seamstress and taught sewing through continuing education for many years. Lorraine was also a member of the CWL. She was an avid gardener and card player who loved dancing, skating and travelling to Europe, especially Holland, where she and George made a lasting friendship with the van den Berkt family.
At Lorraine's request, there will be no visitation. A Funeral Mass of celebration will be held on Friday, November 2, 2018 at 10 a.m. in the Parish Church of St. Leonard, Mount Carmel Avenue, with Father Ray Huntley officiating. Burial will be in Forest Haven Memorial Gardens, Sydney, with a luncheon to follow at St. Leonard's Parish Hall on Convent Street, New Waterford. In lieu of flowers, donations may be made to the Maple Hill Manor or a charity of your choice. Online expressions of sympathy may be sent to the family at: www.vjmcgillivray.ca.
The family would like to thank the staff at the Maple Hill Manor for their ten years of exceptional care given to Lorraine.