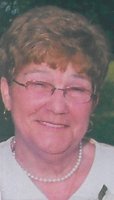 Mabel "Delie" McCarthy, Glace Bay
Mabel Berdelia "Delie" McCarthy
Glace Bay
Mabel (Lynk) McCarthy age 85, of Glace Bay passed away on Wednesday, December 26th, 2018 at the Cape Breton Regional Hospital, Sydney with her family by her side.
Born in Glace Bay, she was the daughter of the late Fred and Alma (Clarke) Lynk.
Christmas was her favorite time of the year. She loved to clean her home and bake and cook for family and friends. In her earlier years her past time was camping and playing darts. Later on Mabel enjoyed spending time with her sisters Tootsie and Aggie and her many good friends at Branch 3 Legion and Dominion Sandbar. Mabel enjoyed playing jokes on people especially her granddaughter, Karen who gave Mabel lots of extra care and love. Mabel always enjoyed her 11a.m tea time daily routine at Betty Ann's.
Mabel is survived by her children, Mary (deceased) Greg McNeil, Betty Ann (Tom) Lynk, Brenda (Gerald) Smith, Freida (Earl deceased) Rea, Martha (Wayne) O'Brien, Greg (Doris Lynn) McCarthy, Linda (David) McInnis, Joe (Yvonne) McCarthy, Darren (Wendy) McCarthy, Dennis (Tammy) McCarthy; granddaughter, Kim (Mark) Steffler . Mabel is also survived by brothers, Trumie, Jerry, sisters, Aggie, Tootsie, Mary, 23 grandchildren, 34 great grandchildren and two great great grandchildren.
Beside her parents, Mabel is predeceased by her husband, Richard McCarthy, daughter, Mary "Di" (McCarthy) McNeil; granddaughter, Vickey Smith; brothers, Everett, Sam, Bernie, Norman "Chuck"; sisters, Helen, Shirley "Gertie" and Lilie.
Visitation is Wednesday, January 2nd, 2019 from 2-4, 7-9 p.m. in V.J. McGillivray Funeral Home, 16 Reserve Street, Glace Bay. The funeral mass, officiated by Fr. Dan Boudreau is Thursday, January 3rd at 11 a.m. in Immaculate Conception Church followed by a reception. Cremation to take place after the mass with interment in the parish cemetery at a later date.
The family would like to extend a sincere thank you to 4C & the Palliative Care Unit, CBRH, Sydney and New Waterford Homecare for all the compassion shown to Mabel. Donations may be made to a charity of one's choice.
On line condolences to the family can be expressed at: www.vjmcgillivray.ca