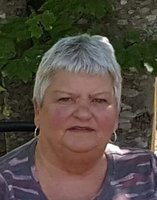 Anna Marie Dearing, Glace Bay
Anna Marie Dearing
Glace Bay
It is with heavy hearts that we announce the passing of our beloved mother, sister and friend. Anna Marie Dearing, age 65 of Glace Bay passed away on Monday, February 25, 2019 at the Cape Breton Regional Hospital with family by her side.
Born in Glace Bay on May 28, 1953, she was the daughter late Russell and Sarah (Sis) Ferguson.
In her earlier years she worked as a cleaner at the Heavy Water Plant. Anna was a very out spoken and sociable person who enjoyed being with her family and friends .She was a person who would do anything possible for family and friends. Anna enjoyed camping with her family at their trailer in Mira.
She survived by her husband, Bobby; son, Bobby; daughter, Mary Frances; brothers, Matthew Ferguson, Jerry MacDonald; sister, Lucella (Wayne) Derbyshire; sisters- in- law, Sharon (Art) Oliver, Gaye MacDonald; brothers –in – law, Blair (Debbie) Dearing, Jim Dearing and Buddy Cole who was like another son and her fur baby Molly. Also surviving are numerous nieces and nephews and some of the greatest friends you could have throughout her life.
Besides her parents, she was predeceased by her brother, Sheldon; in laws, Harold and Elizabeth Dearing, brothers–in – law, Duke Dearing, Danny Dearing, and Crawford Dearing; sisters –in – law, Mary Jane Dearing and Hattie Dearing.
Visitation will take place on Friday March 1st, 2019 from 2-4 and 7-9 pm followed by a funeral service on Saturday at 10 am, all in V.J. McGillivray Funeral Home Chapel and Reception Centre, 16 Reserve Street, Glace Bay. Rev. Alison Etter officiating. Interment will take place at a later date in Greenwood Cemetery.
On line condolences to the family can be expressed at: www.vjmcgillivray.ca