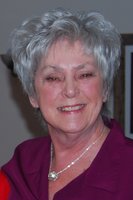 JeanAnne Hay, Glace Bay
JeanAnne Hay, a resident of Glace Bay, passed away peacefully, on Monday, August 19th, 2019, at the An Cala Palliative Care Centre, Cape Breton Regional Hospital. She celebrated her 79th birthday, only three weeks prior, with family, friends and hospital staff.
She was diagnosed with lung cancer in March of 2018. She fought this dreaded disease with grace, determination, strength and dignity. JeanAnne never permitted cancer to define who she was.
She was a beautiful person inside and out, who always placed the needs of others before her own. To characterize her as a "people person" would be a major understatement. Kindness, compassion, love and caring, were just a few of the many positive attributes that made our sister loved by all. If one was fortunate enough to meet her, you were forever enrichened by the experience.
She was a conservationist and a lover of dogs, cats and all pets. She would do her utmost to help animals in need, often saying that she tried to be the voice that they never had and they would return their love to her, many times over.
JeanAnne also had a special gift for storytelling. This, coupled with her sense of humour, would make even the worst of days, one of the best for you.
She was very artistic and purple was her favourite color. Anytime you might wear something with a little purple in it, please think of our dear JeanAnne.
JeanAnne had a deep love for music and her favourite musicians were Matt Minglewood, Elton John, the Carpenters, Roy Orbison, Dianna Ross and the Supremes, just to mention a few.
She began her work career with the Bank of Montreal in the early 1960's. She then assisted her husband in his accounting business for an 18 year period, while living in Big Pond. Her last employment was with the federal Department of Citizenship and Multiculturalism from 1983 to 1993.
She then took on the key role as primary caregiver for our Mother. JeanAnne's care for her was instrumental in extending our Mom's life to 96. They were inseparable, and had the strongest of a Mother/Daughter bond.
JeanAnne is survived by her brother, Arthur Hay (Cheryl), Glace Bay, and her sister, Nina Redding (Allison), Saint John, New Brunswick. She is also survived by nephews, Barrie Campbell (Ethel), David Campbell (Mildred), Graham Redding (Leanne), Bill Hay and Tommy Hay (Michelle). Surviving nieces are Bernita Merritt, Heather Redding, Laura Hay and Karen Hay. She is also survived by numerous grandnephews and grandnieces.
JeanAnne is missed by her special rescued feline friend, Calico.
She will be missed by three very special young men, who she treated like her sons, Sammy, Sandy and Stanley Wong, of Toronto, Ontario, in addition to their parents, Johnny and Jenny Wong.
She will also be missed by many close friends, to whom we will be forever grateful, for the love and support that they extended, during her illness.
She was predeceased by her parents, Thomas and Agnes Hay; her sister, Marion Campbell and brother-in-law, Bernie; her brothers, Sandy Hay, Thomas (Buddy) Hay and sister-in law, Jean; nephew, Charlie Campbell and recently, her first cousin, Doug Barrett. She was also predeceased by her ex-husband, Donald "Duke" MacIsaac, and later, by her loving partner, Ron Campbell and many aunts and uncles.
Our thanks are extended to her professional medical and caregiver teams, which includes, but not limited to: The staff of New Waterford Homecare Society; The V.O.N.; EHS; The staff of Glace Bay Pharmasave Drug Store; Dr. James MacKillop and staff; Dr. Liam Mulroy, (Halifax); Dr. Amiel Majoomdar (Halifax); Dr. Keon Kodadad; Dr. Ann Francis Dentino and her entire staff at the An Cala Palliative Care Centre and the Hospice Volunteer Team. Your professional care and compassion will never be forgotten.
Cremation has taken place and visitation will be held on Thursday, August 22, from 7- 9 pm and Friday, August 23, from 2- 4 and 7-9 pm. In V.J. McGillivray Funeral Home Chapel and Reception Centre, 16 Reserve Street, Glace Bay. Funeral service will take place at Newsom United Church, Dominion Street, Glace Bay, on Saturday, August 24th, at 2:00 pm, with the Reverend Robert Biggar presiding.
Internment at Oakfield Cemetery, Hillside, Mira, will be announced at a later date. Online expressions of sympathy may be sent to the family at: www.vjmcgillivray.ca.
In JeanAnne's memory, donations can be made to Newsom United Church or the SPCA.
Rest well, our dear and loving Sister.