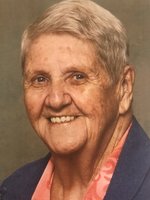 Catherine Margaret Hannigan
Catherine (Doyle) Hannigan passed away on September 7, 2019 at the age of 89, surrounded by her family. Born in Margaree Forks, she was the daughter of the late Daniel T. and Lillian (Arnold) Doyle.

She will be greatly missed by her family: Debbie (Marc) LeBlancq; Joey (Mary Kuzyk); Marlene Mercer; Anita (John) Benfield; Eileen (Carol Straub). Also surviving are five grandchildren, four great-grandchildren and many nieces and nephews.

Kay graduated as a Registered Nurse from St. Joseph's Hospital in 1953 and was an active member of St. Leonard's church in New Waterford, where she resided throughout her adult life.

She was a loving and joyful person who was a wife to Harold, a mother, grandmother, great-grandmother and a friend.

Kay liked to laugh, whether alone or with others. She liked to read; bake (her biscuits will be missed); listen to music (and sing Christmas Carols all year long); do jigsaw puzzles as a family; play cards while serving tea and treats and go fishing where she sometimes tumbled down riverbanks to get to that one great spot.

Kay was predeceased by her husband, Harold, and her daughter, Sheila; sisters, Alice Murphy, Henrietta Campbell, and Alvina Doyle; brothers, Tom, Charlie, Mose, Dan, Michael and John in infancy.

Visitation will be held at V.J. McGillivray Funeral Home, 380 Smith Street, New Waterford on Wednesday, September 11 from 6-9 p.m. The Funeral Mass will take place in the Parish Church of St. Leonard, Mount Carmel Avenue, on Thursday, September 12, at 10 a.m. with Father Ray Huntley officiating. Cremation will follow with burial in Mount Carmel Cemetery at a later date. A luncheon will be held at St. Leonard's Hall, Convent Street, immediately following the Funeral Mass. In lieu of flowers, donations may be made to a charity of one's choice. Online expressions of sympathy may be sent to the family at:www.vjmcgillivray.ca.