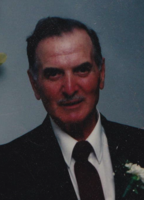 Elliot Fraser Smith, New Victoria
On Tuesday, September 24, 2019, Elliot Smith died peacefully at The Cove Guest Home at the age of 94. Elliot was an important connection to the past for the Smith family's heritage as the last surviving member of his family's generation. A pillar in the community of New Victoria, he lived there for 74 years with his loving wife, Odette (Hamilton), where they raised their sons Wayne and Cordell. Born on February 8,1925 in New Glasgow, Elliot was a son of the late William and Margaret (Cunningham) Smith. Elliot married his sweetheart in the summer of 1944 in Stellarton, Nova Scotia and worked in New Glasgow as a bricklayer for four years. The young couple moved to New Victoria where Odette's family was located where Elliot worked as a bricklayer for Sydney Steel Corporation and spent the next 39 years there until his retirement at the age of 60.
A family man, Elliot loved spending time with those he loved dearly. Holidays were his favorite, as it was time to be together, share stories and break out the musical instruments! A lover of music, Elliot loved to play the guitar, organ, banjo, mandolin, harmonica and even the accordion for his friends and family. Humorous and gregarious, Elliot was gifted with a quick wit and an art for storytelling like no other. Stories of his motorcycles with a sidecar for Odette, tall tales and past life adventures – he had a story for every occasion. When their son Wayne was injured in 1972, Elliot and Odette assumed care for him and did so until his death. A faithful and devoted husband, Elliot took care of Odette when she fell ill and with amazing strength, grace and dignity did so until her passing in 2018. Elliot loved being a grandfather and a great-grandfather. With child-like enthusiasm, he lit up when they arrived to visit, open arms waiting, offering a warm big hug for each. He listened with curiosity to their goals and encouraged them to reach for their dreams. .
Elliot was a kind, gentle soul and a true friend. He made many life-long friends through his work at the "plant", his community and through the activities he enjoyed. Elliot loved fishing and hunting with his son, Cordell and their friend, Alex. Many trips to the "cabin" were made where lasting memories and friendships were forged. Forever friends were made whether at the dances that Odette and he frequented all over the Island. The couple danced the night away to Dinky Cameron or the Starlight Nighters at the Polish Village and camped in Inverness County in their many tent trailers over the years. These bonds lasted a lifetime. His ability to make connections came easily and he made many new friends at the Cove where he moved at the age of 93 where he was very well-liked by the community and staff there.
Your legacy will live on through your great demonstrations of humanity and virtue. On to your next adventure, Elliot, with Odette by your side!
Besides his parents, Elliot was predeceased by his wife, Odette; son, Wayne; sisters, Ola and Helen; brothers, Claude, Lou and Lloyd; niece, Stephanie. Lovingly remembered by his son, Cordell (Barbara); grandchildren, Crystal, Cherie, Cordell Jr., Rhonda, Debbie and Dwayne; great-grandchildren, Tyler, Ellie Rose, Everett, Leanne, Melissa, Deanna, Matt, David and Miranda; nephews, Keith, Brian, Bobby, Wade, Billy, Joel, and niece, Holly; great-nephews, Adam, Matthew, and David; great-nieces, Lauralee and Cindy.
Special thanks to all of the staff of The Cove for your outstanding care, friendship and professionalism during our loved ones stay. Also, to the staff of unit 4D at the Regional Hospital. Your acts of humanity and service will not be forgotten.
Cremation has taken place under the care and direction of V.J. McGillivray Funeral Home, 380 Smith Street, New Waterford. There will be no visitation. A funeral service will be held on Monday, September 30, 2019 at 11 a.m. in Calvin United Church, Hudson Street, New Waterford with Rev. Duncan Roach officiating. Burial will be in Union Grove Cemetery, Scotchtown, with a luncheon to follow in the Rev. Duncan Roach Fellowship Room, Calvin United Church. Online expressions of sympathy may be sent to the family at: www.vjmcgillivray.ca.