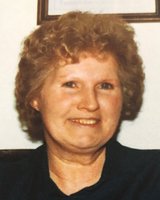 Marcella Mary Fitzgerald, New Waterford
With broken hearts, we, the family of Marcella Fitzgerald (nee MacLellan), age 82, regret to announce her passing on October 25, 2019 surrounded by her loving family at the New Waterford Consolidated Hospital.
Born April 9, 1937, she was the daughter of the late John and Flora MacLellan.
In her younger years, Marcella moved to Meat Cove where she taught school for several years, and met her husband Roy Fitzgerald. They married in New Waterford and moved to Halifax, then Montreal to start a family. Marcella loved to bake and was famous amongst friends and family across Canada for her cheesecakes. She was the sweetest of mothers who gave her all to her children and we all have so many great memories that we will cherish forever. She worked hard to provide a wonderful life for her children. On weekends Marcella was always eager to visit her family. When her own children were grown, Marcella continued to provide a loving home for foster children for over twenty years. She returned to Cape Breton in her later years to be close to her family, and enjoyed years of close family get-togethers, and many hours around the family poker table.
When the love of her life passed away, a part of her left with him. They are now reunited.
Left behind to cherish her memories are her children, Sherrie Brunelle, Rommel Fitzgerald (Evelyn Dunnigan), Terrina O'Hanley (Vince), Aaron Fitzgerald, and Stacey Cote Fitzgerald.
She leaves behind grandchildren, Tara Halupa (Jose), Krista Gerlich-Fitzgerald (Angelus), Jason Brunelle (Cassandra), Adam Brunelle (Jamie), Michelle Brunelle (Jon), Elizabeth Lawrence and great-grandchildren; Aurora, Autumn, Aubrianna, and Maddox.
She is also survived by siblings, sister, Georgina Wilson (Rick); brothers, Hector MacLellan (Danielle), Michael MacLellan (Terry), James MacLellan (Vivian), and George MacLellan (Shelly).
Mom will be sadly missed by many nieces and nephews, whom she adored and in turn they adored her.
Besides her husband, Roy, she was predeceased by her daughter, Cindy; great-granddaughter, Journey; brothers, Alex, Donald, John, Paul; sisters, Georgina (infant) and Emma.
There will be no visitation. A Funeral Mass of celebration will be held on Wednesday, October 30, 2019 at 11 a.m. in St. Joseph Church, Dingwall, NS, with Father Alphonsus Iwuji officiating. Burial will be in the parish cemetery with a luncheon to follow at the United Church Hall in Cape North. Funeral arrangements have been entrusted to V.J. McGillivray Funeral Home, 380 Smith Street, New Waterford.
We, the family, would like to thank the nursing staff at the New Waterford Hospital for their warmth and compassionate care shown to our mother. Family is requesting any donations to the Heart & Stroke Foundation at 110-1525 Carling Ave., Ottawa, ON, K1Z 8R9 or on-line https://www.heartandstroke.ca/get-involved/donate.
On-line condolences to the family can be expressed at: www.vjmcgillivray.ca.