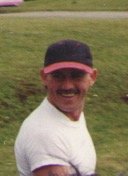 Brian Francis 'Linganer' MacKinnon, New Waterford
It is with sadness that we announce the passing of Brian Francis 'Linganer' MacKinnon, 56, of New Waterford on Wednesday, November 13, 2019 at the Cape Breton Regional Hospital, Sydney.
Born in New Waterford, he was a son of the late Francis and Mary (Hall) MacKinnon.
In earlier years, Brian was employed on the fishing boats in Glace Bay. Until recently, he did several odd jobs such as carpentry work and cutting down trees. He enjoyed hunting and fishing and had a keen interest in cars and Harley's. Brian also loved music, partying and his favourite time of year, Christmas.
Surviving are his daughters, Tera and Ashley, both of Glace Bay; sons, Logan and Dylan, both of Reserve Mines; brothers, Gordie, New Waterford, Dale, Calgary and half-brother, Joey; sister, Leanne, New Waterford; several grandchildren.
Besides his parents, Brian was predeceased by a brother, Joey and sister, Joanne.
Cremation has taken place. There will be no visitation. A funeral service will be held on Monday, November 18, 2019 at 11 a.m. in V.J. McGillivray Funeral Home Chapel, 380 Smith Street, New Waterford, with Deacon Leo Penny officiating. Donations in his memory may be made to the Canadian Cancer Society. Online expressions of sympathy may be sent to the family at: www.vjmcgillivray.ca.