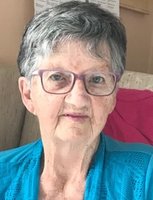 Elaine Hardy, Port Morien
We are heartbroken to announce the passing of our mother, Thelma Elaine Hardy of Port Morien, NS.
Elaine was born on October 4, 1935 and died Sunday, November 24th, 2019 at Seaview Manor in Glace Bay.
Elaine, known as "Chookey" by many, loved to spend time at the rink, theatre or sports fields watching her grandchildren. She loved Bingo and in her earlier years, she and Rod would spend most Friday nights playing darts at the Port Morien Fire Hall with their friends.
Elaine is survived by her children, Rhodena Dearn (Robert), Roland Hardy (Shirley), and Dorothy McLean (Michael) and nephew Donald.
She is lovingly remembered by her grandchildren, Kyle (Kristyn), Michael (Rebecca), Jessica, Steven, Jordan, and Noah and great grandchildren, Gabriel and Henrik. She is also survived by her sisters, Mary, Dawn (Don), brother in-law Tom, and sister in-law Josie. She will be forever remembered by her numerous nieces, nephews and extended family and friends.
Elaine was predeceased by her husband, Roderick, parents, Thomas and Viva Robinson, sisters, Colleen and Avada and her brother, Vinal.
Special thanks to the staff at Seaview Manor for her wonderful care this past year. Donations can be made in her memory to the Seaview Manor Foundation.
Visitation will be on Tuesday, November 26th from 7:00 pm – 9:00 pm in V.J. McGillivray Funeral Home, Chapel & Reception Centre, 16 Reserve Street, Glace Bay. The funeral service is Wednesday morning at 10:00 am in the funeral home. Interment in Black Brook Cemetery. Rev. Bob Biggar officiating.
On line condolences to the family can be expressed at: www.vjmcgillivray.ca