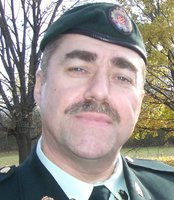 Steve McNeil, Trenton, Ont./ N.W.
We are deeply saddened to announce the passing of Stephen Gerard McNeil, age 60, on November 22nd, at home with his family by his side in Trenton, Ontario.
Steve was born in New Waterford, Nova Scotia to the late Florence McMullin and Francis McNeil on November 6, 1959.
He was proud to spend his childhood growing up in a large coal mining family in New Waterford. He was a member of Mount Carmel parish and graduated from BEC. After high school, Steve joined the Canadian Armed Forces. During more than 27 years of Service Steve worked in three different trades, the longest being with the Military Police. He had seven postings and two tours of duty in the Middle East. The highlight of his career was serving as a guard at the Canadian Embassy in Moscow for three years. It was a life changing experience for him and his family.
Steve enjoyed a lifelong passion for ALL sports and especially loved hockey. Some of his fondest memories were centred on hockey, from, flooding Thompson St and using it as a rink as a child to meeting his Heroes at the 1992 Canada/Russian 72 series reunion. Most recently, Steve enjoyed watching hockey on TV with his 2 1/2 year old Granddaughter Rose, he had to win her over, she controlled the remote!
Steve is survived by his wife, Catherine Laird-McNeil and their two daughters, Stephenie McNeil (Daniel) and Katie DesRochers (Peter), one grandchild, Rose DesRochers, his sisters, Jean Cummings (Joe Coady) and Pauline (Glynn) Murray; his brothers, Bernie, Frankie (Cynthia), Gerald (Cecilia), and Ronnie as well as his step-brother, Sonny (Ann-Marie) MacPherson. Also surviving are many nieces and nephews.
Steve was predeceased by a brother Johnny in infancy and by his step-mother, Margaret MacPherson.
Funeral arrangements are entrusted to Quinn Cremation and Burial Services in Belleville, Ontario and V.J. McGillivray Funeral Home, 380 Smith Street, New Waterford, Nova Scotia.
Visitation will take place in New Waterford from 7-9 pm on Friday, November 29, 2019. The funeral mass will be celebrated at 10:00 am on Saturday, November 30, 2019 at The Parish Church of Saint Leonard's on Mount Carmel Avenue, New Waterford, with Fr. Ray Huntley officiating.
Interment will take place at Mount Carmel Cemetery. A luncheon will follow at The Army, Navy and Airforce Unit #217 on Eight Street, New Waterford.
Donations in Steve's memory can be made to the ALS Society of Canada. On line condolences to the family can be expressed at: www.vjmcgillivray.ca