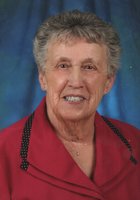 Anna Mae McCarthy, New Waterford
It is with great sadness that we announce the passing of Anna Mae (MacDonald) McCarthy on January 25, 2021 at home, surrounded by her family, after a brief illness.
Born January 6, 1929 in Inverness NS, she was the youngest child of Neil J. and Cassie (MacNeil) MacDonald. She moved to New Waterford as a child with her family, and became a member of Mount Carmel Parish, currently the Parish of Saint Leonard.
Anna Mae graduated from the nursing program at the New Waterford General Hospital, she then worked there and at the New Waterford Consolidated Hospital until her retirement. She was a member of the CWL and the Aging Gracefully group.
Anna Mae is survived by her son, Dan McCarthy (Barbara) and daughter, Marie McCarthy-Guigon (Eddy); four grandchildren, James and Alexander McCarthy and Cassie and Anna Guigon; sisters, Sister Catherine (Tootsie) MacDonald CND and Christena McGillivary; many nieces and nephews whom she loved dearly.
Besides her parents, she was predeceased by her husband of 55 years, Charlie McCarthy; brothers, John Alec 'Shorty' MacDonald, Angus Charles 'A.C' MacDonald and Archie Neil 'Neilie' MacDonald; sister, Catherine Jane 'Irene' Fraser.
We would like to thank the Palliative Care Society and the VON for their care and compassion.
A Memorial Mass will take place on Tuesday, August 2, 2022 at 10 a.m. in the Parish Church of St. Leonard, Mount Carmel Avenue, New Waterford.
Donations in her memory can be made to the Society of St. Vincent de Paul. Online expressions of sympathy may be sent to the family at: www.vjmcgillivray.ca.
Nana loved a nice lunch, a good cup of tea, and great card game. 'Watch Yourself, Be Good!'