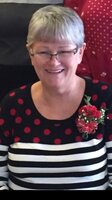 Bernadette M. Campbell, New Waterford
It is with profound sadness that we announce the passing of Bernadette Campbell, age 66, on January 27, 2023 surrounded by her loving family at the Maple Hill Manor.
Bernadette was the daughter of Michael Campbell and the late Margaret 'Peggy' Campbell.
Bernadette grew up in New Victoria and never wavered from loving the water and the New Victoria lighthouse. She left New Victoria in 1974 and pursued a long career in the insurance industry in Hamilton, Ontario. Throughout her career, she was known as a dedicated worker who always helped her co-workers and clients. Bernadette retired home to Cape Breton in 2012 where she was diagnosed with Alzheimers at the young age of 56.
Bernadette will be forever loved by her children, Ryan (Becky) Delisle of Hamilton, ON and Chantal (Simon) MacKay of Sydney; grandchildren, Jack and Claire Delisle, Cale and Alistair MacKay; sisters, Sharon (Greg) MacMaster, Lorraine (Raymond) MacDonald; brothers, Michael (Jane), Robbie (Alana), Bruce (Corrine), Blaise (Joann), Hector (Tracey), Glen (Liza) and sister-in-law, Susan Campbell.
Bernadette was predeceased by her mother, Peggy Campbell; sisters, Mary (Scott) Blinkhorn, Colleen Campbell and George Campbell (2022).
Cremation has taken place. Visitation will be held on Saturday, February 4, 2023 from 11 a.m until the time of the service at noon, with reception to follow all in V.J. McGillivray Funeral Home Chapel, 380 Smith Street, New Waterford. Father Jim Oliver officiating. Burial will be in St. Alphonsus Cemetery, Victoria Mines. Online expressions of sympathy may be sent to the family at: www.vjmcgillivray.ca. Donations in memory of Bernadette may be made to the Maple Hill Manor.
Special thanks to the Maple Hill Manor for all the care given to Bernadette over the last six years. Your compassion and kindness is greatly appreciated and will never be forgotten.