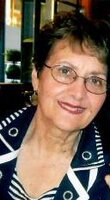 Adele Catherine Hinchey, New Waterford
It is with broken hearts that the family of Adele Hinchey announce her passing on February 26, 2023.
Adele was born in New Waterford, NS, to the late James and Mary Butler. She was the second youngest child of nine.
Adele is survived by her three children, Anne Marie (Stephen) Marsh, Patrick (Tanya) Hinchey, and Maureen (Mike) Collins. She is also survived by seven treasured grandchildren and five great-grandchildren; sister, Lucy Klinger and brother, Roy Butler (Sheila).
Adele was a loving, caring mother, grandmother, great-grandmother, sister and friend. She was a woman of great faith and her life reflected her generosity of spirit. She saw the best in everyone she met.
Adele was a dedicated homemaker. She enjoyed music and sang with her beautiful voice in the church choir when she was able to participate. Adele loved to get together with her sisters to play card games and have tea or enjoyed going out to dinner or getting together with her good friends for a laugh or two. Adele had a unique, infectious laugh that would brighten up the gloomiest of days.
Throughout the years, Adele loved to travel. She made many beautiful memories with family and friends, but the greatest joy in life was spending time with her children and grandchildren; she loved them all beyond measure.
Adele, your loving presence will be missed by so many. Until we meet again.
The family would like to give a heart-felt thank you to the amazing staff at Celtic Court in Sydney for the excellent care and attention they provided for Adele during her stay.
Visitation will be held on Friday, March 3, 2023 from 12:00 - 1:45 p.m. in V.J. McGillivray Funeral Home Chapel, 380 Smith Street, New Waterford with service to follow at 2 p.m., Father Jim Oliver officiating. A reception will take place immediately after the service in the funeral home reception area. Burial will be in Mount Carmel Cemetery.
Donations in Adele's memory may be made to a charity of one's choice. Online expressions of sympathy may be sent to the family at: www.vjmcgillivray.ca.