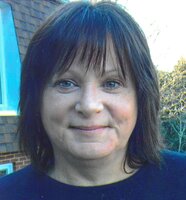 Kim Owen, Glace Bay, New Victoria, Peterborough, ON
Kim Owen, age 56 passed away on Thursday, March 9th, 2023 in the Cape Breton Regional Hospital, Sydney.
Born in East York, Toronto, she was the daughter of the late Neil & Effie Ann (Attwood) Nicholson of Glace Bay.
Kim's parents were born and raised in Glace Bay, but like so many capers they moved to Toronto to look for work.
This is also where Kim met her husband, William "Bill" Owen. She and Bill worked together for many years at the Lear Corporation in Whitby, ON. She was also employed at Walmart for a short time.
Kim had spent many summers in Cape Breton visiting relatives. She loved the ocean and eventually her and Bill bought a home in New Victoria. Kim loved her family dearly and was a great mother and wife. She also had a great passion for animals.
Besides her husband, Kim is survived by her daughter, Kayla, two sons, Derek, Dylan and her brother, Robert.
Cremation has taken place and a celebration of her life will be held at a future date.
To leave a condolence to the family proceed to the V.J. McGillivray Funeral Home & Cremation Centre website in Glace Bay: www.vjmcgillivray.ca