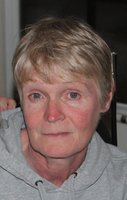 Martha MacKenzie (McEachern) Jurcina, New Waterford/North Sydney
It is with great sadness that we, the family, announce the passing of Martha (McEachern) Jurcina, 55, on Sunday, June 3, 2018 at her home at the Northside Community Guest Home, surrounded by her loving family members.
Born in New Waterford, she was a daughter of the late Daniel and Annie (MacIntyre) McEachern.
Martha loved to play bingo, cards, Jeopardy and Wheel of Fortune. In younger years, Martha was an avid athlete who played both basketball and soccer at Breton Education Centre. She was chosen in grade 7 to play on the high school basketball team at B.E.C. and continued to play up to and including grade 12. Martha also played Lob Ball in town for several years with Muise's Dairy. She had a great sense of humour and most recently, enjoyed visits from her grandkids, Liam and Lydia.
Surviving are her daughters, Danielle (James) Hogan, and their daughter, Lydia, New Waterford; Meaghan (Andrew) MacNeil, and their son, Liam, Sydney; sons, Matthew (Jordan) Jurcina, Halifax, Jonathan Jurcina, New Waterford; sisters, Terrina (Austin) Doyle, Isabel (Harold) MacDonald, Ann Marie (Aubrey) MacSween, Catherine (Louie) Graham, twin sister, Marsha (David) Smith; brothers, Danny (Ruth) McEachern, Fred (Brenda) McEachern, all of New Waterford.
Besides her parents, she was predeceased by a niece, Sharon Ann MacSween; nephew, Michael McEachern; great-nephew, Christopher McEachern.
Cremation has taken place. A visitation will be held on Thursday, June 7, 2018, from 7-9 p.m. in V.J. McGillivray Funeral Home, 380 Smith Street, New Waterford. A Funeral Mass of celebration will take place Friday, June 8 at 10 a.m. in the Parish Church of St. Leonard, Mount Carmel Avenue, with Father Paul MacGillivray officiating. Burial will be in Mount Carmell Cemetery with a luncheon to follow at the Knights of Columbus Hall, Plummer Ave., New Waterford. Online expressions of sympathy may be sent to the family at: www.vjmcgillivray.ca. Family flowers only. In lieu of flowers, donations may be made to the Northside Community Guest Home, 11 Queen Street, North Sydney, N.S., B2A-1A2.
The family would like to thank the Northside Community Guest Home, especially the nurses and staff of Munro Place, for their kindness, love, and compassion to Martha.