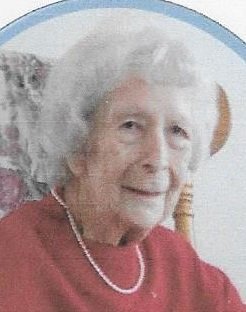 Obituary of Rita McInnis, Reserve Mines
Rita (Tiller) McInnis
Reserve Mines
Rita (Tiller) McInnis, age 96 was reunited with her loving husband Augustus "Gussie" when she slipped away at Glace Bay General Hospital on Friday, August 3rd. 2018.
Dianne and her sisters would like to extend sincere gratitude to the nursing staff in ward Three South for their kind and compassionate care of their Mom.
Rita and Gussie brought their girls to Massachusetts in 1953. They both worked at New England Baptist Hospital.
In 1963 they moved to Rockland and then onto Ontario later in life, and finally "home" to Cape Breton. Rita led a quiet life but loved being an active member of the Canadian Women's League and a devout member of St. Joseph Parish.
Rita is survived by her six girls, Dianne of Reserve Mines, Doreen, Judy, Debbie, Sherry, Carol Ann all of whom reside in Massachusetts. She will also be missed by her grandchildren Dave "DJ", Scott, Michael, and Jeannette. Rita also adored her great grandchildren, Sam, Alex, Aaron, Kyleigh, and Logan.
In addition to her parents, Charles and Deborah (Green) Tiller and her husband, Gussie, Rita is predeceased by nine brothers and sisters.
Cremation has taken place. Visitation will be held on Monday, August 6th, 2018 from 2 p.m. until the time of the service at 4 p.m., all in V. J. McGillivray Funeral Home, 16 Reserve Street, Glace Bay. Fr. Dan Boudreau presiding.
Rita's final resting place will be with her husband, Gussie at St. Joseph's Parish Cemetery. Remembrance donations can be made to the Cemetery Fund of St. Joseph's Church in Reserve Mines.
On line condolences to the family can be expressed at: www.vjmcgillivray.ca