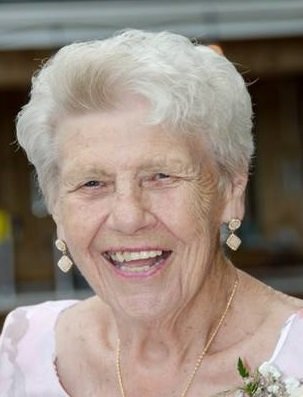 Obituary of Helen (Kosick)MacLean, Glace Bay
Helen Mary MacLean (nee Kosick)
Glace Bay
Joie de vivre – the joy of living. If ever there was a phrase to encapsulate the very essence of Helen's spirit this would be the phrase. Her sudden passing on October 11, 2018 as a result of a fall is a departure way too soon.
Born in Glace Bay, N.S. August 22, 1929 to parents, John and Antonina (Drabek) Kosick, she was the middle of 9 siblings. Aw, the middle child, to the many who knew her well that certainly explains a lot! She had a spirit that was a force and it drew you into whatever plan was in the works be it your plan or hers.
She embodied the 3 F's, family, friends and fun. She adored her siblings and treasured her family and friends. She constantly wanted to be in the thick of things. Not always something her siblings wanted. The story of her brother Steve and one of the Currie boys nailing her by her dress to the fence so she wouldn't follow them can attest to this theory.
She loved music, singing and dancing. If there was one regret in her life it would be that she never had the opportunity to be trained as a singer. It didn't stop her however and throughout her lifetime she could be found in various church choirs regardless of the denomination, putting her spin on the hymn. As much as she loved the choir she didn't want it to interfere with some of her other passions, bingo, cards, dancing or going on an adventure. We would tease her and say she belonged to the funeral choir because it fell into her schedule.
She belonged to St. Mary's choir for many years. She also looked forward each year to Farm fest a yearly musical event hosted by her nephew in Aspy Bay. She oftentimes would take to the mike in the wee hours and sing some of the oldies.
Helen was a member of the Gardiner Mines Senior Pensioners club. Many a morning after a dance she would call and say she danced to every song or, because she was tired from gardening earlier in the day, just sat and listened to the music from "In the Mood". She loved hearing them play and praised them to anyone who would listen.
Baking was always on her agenda. On any given day she could be found baking numerous squares, tea biscuits, cinnamon rolls and date squares. She would then distribute them to various people and businesses around town making sure that each got their favourites. Many a calorie can be blamed on Helen's charity.
Work also played a huge role in her life. After years of travelling across Canada & aboard with D.R. during their military years, they settled back in the Bay. Helen worked for 17 years at the Bay Medical Clinic with Drs. J.O. MacNeil and J.B. Tompkins and the succession of young doctors who passed through their halls honing their skills. She treated them as family, ensuring they took the time to eat during their busy schedules, supplying the food of course, or sometimes just listening to their tales of woe.
It is impossible to fully show what an amazing human being this lady, our mother, was to all around her. Was she perfect, no, she had her flaws as we all do, but to those who stood with her, felt her glow and were drawn to her she was perfect. She will be missed.
She is survived by her sister Olga Saytar, (Andy) and brother, Fred Kosick (Nancy), her children, Donna (David) Peach, Colleen (Glen) Miller, Donald (Crystal) MacLean and Joan (Paul) Desveaux.
Also surviving are her grandchildren, Ryan (Allison), Jason Peach, Shannon (Paul) Boudreau, Jeff (Taralynn) Miller, Samantha & Taylor MacLean, Renee (Sheldon) Boyd, Clinton (Siou) Desveaux, great grand children Jude Miller, Alexa Dawn Peach, Harlee Mae Sweet , Grace & Isaiah Boyd, Jaden & Angelina Desveaux., sisters-in-law Lois, Barb, & Rose Kosick, many wonderful nieces & nephews who embraced her in their lives.
Besides her parents, Helen is predeceased by her husband of 57 years, Donald Roy MacLean, sisters, Francie Kosick, Violet Mercer and Mary Kastner as well as brothers, Cecil Kosick, Steve Kosick and Alec Kosick.
Very special and heartfelt thanks to her wonderful heaven sent neighbours, Barb & Terry Ashford and their daugher Nicole. You made all our lives much easier.
Visitation will be held on Tuesday, October 16, 2018 from 2-4, 7-9 p.m. in V.J. McGillivray Funeral Home, 16 Reserve Street, Glace Bay.
The funeral service is Wednesday at 11 a.m. in St. Mary's Anglican Church, Glace Bay followed by a reception. Rev. Ruby Carter officiating. Interment in St. Mary's Cemetery.
Donations may be made to St. Mary's Anglican Church or a charity of one's choice. On line condolences to the family can be expressed at: www.vjmcgillivray.ca
As her grand-daughter Shannon wished – "May you be dancing upon the clouds with grandfather".