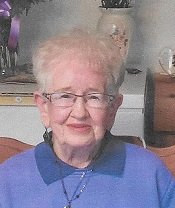 Obituary of Christina "Tootsie" Gallant, Glace Bay
Christina "Tootsie" Mary Gallant
Glace Bay
It is with great sadness that we announce the passing of our beautiful mother, Christina "Tootsie" Mary Gallant, age 84 who died peacefully at home on April 7, surrounded by those who loved her. Christina was born in Glace Bay to Edna (Stewart) and John Anthony McNeil.
Mom is survived by her husband of 45 years, Harvey Clark, her three children, Blaine (Monica), Brenda and Bonnie (Colin) and four stepchildren, Lori (John), Brenda (Dean), Karen, David, grandchildren, Marcus Lew, Jordan Gallant (AI), Chelsea Gallant (Scott) and Harvey's grandchildren.
She was pre-deceased by her parents and her 7 siblings, Rodina, Elsie, Terrance, Rob, Neil, Genevieve and Lincoln (Binkie).
Mom will be most remembered by her nieces, nephews and many friends for her unconditional love and support and genuine interest in their lives and she was also known for her beautiful spirit and loving personality. Friends and family were the center of her life.
Mom retired from the Heavy Water Plant where she was an active member of the social committee. She and her "girls", Debbie Calabrese, Debbie McIntyre, Betty Rankin and Joan Corbett shared their life stories, made many fond memories and remained great friends for the rest of her life.
Mom loved to plan and participate in social activities from get-togethers with friends and family to organizing the Glace Bay Heavy Water Plant Reunion. Mom was always the life of the party and was loved for her boundless sense of humor. Her kindness and generosity will be greatly missed by all who knew and loved her.
Mom was proud to be called the "oldest and longest standing member of the McKay's Corner dart league where she played "competitive" for over thirty years. For years Mom enjoyed her weekly cards games with the ladies club and was always tickled when she won the "pot".
We would like to express our deep gratitude to the Palliative Care Unit at the Regional Hospital, New Waterford Home Care, VON, Dr. Cadegan and Brenda for their care and compassion as well as everyone who supported Mom over the last few years including Carmen and Starla.
Visitation is Thursday, April 11th, 2019 from 2-4, 7-9 p.m. followed by a funeral service on Friday at 2 p.m., then a reception, all in V.J. McGillivray Funeral Home, Chapel and Reception Centre, 16 Reserve Street, Glace Bay.Fr. Norman MacPhee officiating. Cremation to take place after the service with interment in St. Anthony's Cemetery at a later date.
On line condolences to the family can be expressed at: www.vjmcgillivray.ca