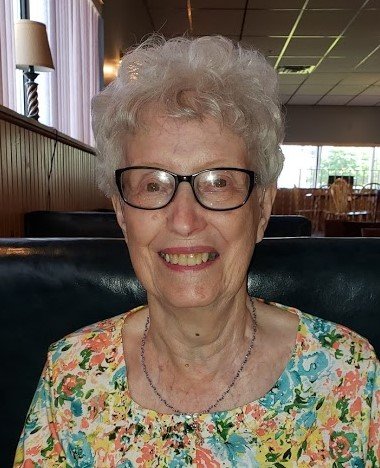 Obituary of Cecilia Currie, Reserve Mines
Cecila Currie
Reserve Mines
Cecilia Currie, 93, of Reserve Mines, NS, passed away peacefully, with her family by her side, Saturday, August 31, 2019 at the Dartmouth General Hospital.
Mom's life was as a blessing, her memory is a treasure and we loved her beyond words. Mom had four loves of her life, her Catholic faith, her family, her community and travel. She was a member of St. Joseph's Parish, enjoyed bowling, was a member of the CWL, St. Joseph's Choir and the Prayer Line. She was fortunate to travel throughout Canada, the US and Europe. A wonderful role model for all of us, she loved unconditionally and cherished her time spent with her children, grandchildren and great-grandson.
Born in New Waterford on November 7, 1925 she was the daughter of the late Murdoch S. and Catherine MacNeil. She is survived by her children, Susan (Timmy), Janice, Anita (Wilson), grandchildren, Jonathan, Nathan, Laurie, Allyson Wadden and Glenden (Aynsley), Mitch (Katie) Murphy, great grand grandson William, sister Mary Gillis; sisters-in-law, Mary MacNeil, Ursula (Mike) MacDonald, Anna Currie, many nieces and nephews.
Cecilia was predeceased by her loving husband, Jake, infant son Reginald Gerard and infant granddaughter Jenna Lynn, siblings, Steve (Rose, Mary), Jenny, John A. (Margie), Mike, Rita, Francis 'Fro' (Florie), Doug (Jean), Isabelle, Theresa (Avellino), Gerard 'Uggs' (Lottie), Jean (Eddie), Bernie Anthony, In-laws Theresa (Neil) Amadio, Angie (Sandy) Campbell, Sister Carm Currie, Rev. Reginald Currie, Michael, Basil (Peggy).
Visitation will be held on Wednesday, September 4 from 2-7 p.m. at V.J. McGillivray Funeral Home, Chapel & Reception Centre, 16 Reserve Street Glace Bay. A Funeral Mass of celebration will take place Thursday, September 5, at 11 a.m. at St. Joseph's Church, Main Street Reserve Mines, with Fr. Dan Boudreau officiating. Burial will be in St. Joseph's Cemetery with a luncheon to follow in the parish hall. In lieu of flowers, donations may be made to the St Joseph's Cemetery Fund. Online expressions of sympathy may be sent to the family at: www.vjmcgillivray.ca.
Cecilia's family would like to thank the doctors and nurses of the Dartmouth General for their care and kindness during this difficult time. A very special thank you to Ursula and Mike McDonald for their endless support over the years.
Death is the doorway to eternal life, 'Go forth faithful Christian.'