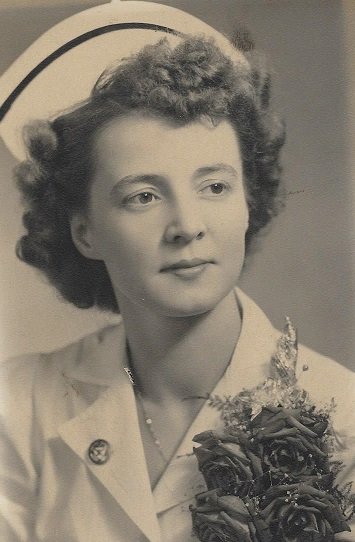 Obituary of Mary Agnes Currie/ R.N./R.T./ Reserve Mines
Mary Agnes Currie, R.N. / R.T.
Reserve Mines
In sadness at her passing and in thanksgiving for her long full life, we announce the sudden death at home of Mary A. Currie on Tuesday, September 17th, 2019 with her family by her side.
Born in 1921, Mary was the daughter of the late Daniel and Agnes "Nessie" (Rennie) Currie of Centerville, Reserve Mines, NS.
At the young age of 17, Mary went to the USA to begin training as a nurse. After two years in Maine, illness, the dreaded T.B. forced her to come home. She finished her R.N.'s at St. Joseph's Hospital School of Nursing in Glace Bay, graduating with the class of 1948. On graduating, Mary was asked to, "Help out" in the lab at St. Joseph's where she remained for the next 38 years, retiring as head of the dept. in 1986.
Through the years, Mary travelled widely, gave freely of her time to administer insulin shots to those in need in the community. She donated to many charities, held her family and service to them very sacred and kept her keen intellect sharp, always. Her faith and prayer life were unwavering, but she understood that life could become very complicated in a changing world. Mary, along with her fellow nurses of old, exemplified the values of, "Science, Service and Sanctity", the motto of St. Joseph's.
Mary is survived by four sisters, Evelyn with whom she resided, Catherine Antonick, Dartmouth, Josephine McMullin, Dominion, Anne (Andrew Yorke), Sydney and many caring nieces and nephews.
Besides her parents, Mary was predeceased by her brother, Danny, sister and brother in law, Gertrude and Ian Vance, nephews, Ernie Vance and Robbie McMullin and her brother in law, John R. Antonick.
There will be no visitation. The funeral mass is Saturday, September 21st at 11 a.m. in St. Joseph's Church, Reserve Mines with Fr. Dan Boudreau officiating. Reception to follow in the church hall followed by interment in the parish cemetery.
As an expression of sympathy for Mary, memorial donations may be made to a charity of one's choice or the St. Joseph's Cemetery Fund.
On line condolences to the family can be expressed at: www.vjmcgillivray.ca
Funeral arrangements by V.J. McGillivray Funeral Home, Chapel & Reception Centre, 16 Reserve Street, Glace Bay.