330 Smith Street
New Waterford, NS

CREMATION~CHAPEL~RECEPTION
​FAMILY OWNED AND OPERATED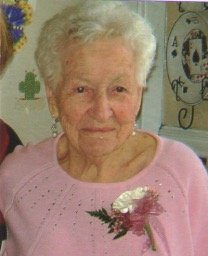 Obituary of Catherine Nemis, New Waterford
It is with profound sadness and also gratitude for a long, well-lived life that we, the family, announce the passing of our beloved mother, Catherine Nemis, peacefully at home on May 6, 2021 with her daughter, Lynn, by her side.
She was the daughter of John Malcolm MacDonald of Judique Interval and Mary MacDonald of Black River, N.S. Catherine was born on January 28, 1917.
She is survived by her daughters, Shirley (Archie MacIntyre) and Lynn (Jim Newman); sons, James (Emily) (Shirley Young - deceased), Denis (Jessie White - deceased), Colin 'Nick' (Eileen Podgurski - deceased) and Cyril (Raylene Hurley). She is also survived by a sister, Alma Rame and brother-in-law, Sonny Gottwald; 18 grandchildren, 30 great-grandchildren, and eight great-great-grandchildren.
Besides her parents, she was predeceased by her loving husband, James 'Cookie' Nemis; son, Malcolm (Anna Pembroke-surviving) ; brothers, John Angus 'Judique', Frank, Colin, Ockie, and Jerome; sisters, Annie, Cassie, Christena, Rachael, Cecilia, Maurina , and Margaret. She was also predeceased by her beautiful granddaughter, Chrissy, who was a constant companion to her.
She was an honorary member of the New Waterford Pensioners' Club where she held several executive positions and enjoyed darts and card games and especially her Saturday night dances where she and Cookie danced the night away.
She loved family gatherings and playing cards with her grandchildren and eventually her great-grandchildren. She especially loved the weekly card games at home with the members of her family. She was a cancer survivor.
In her younger years, she enjoyed skating at the Hawk's Rink, camping and swimming at Laffin's Cove with her family and friends, trips to Port Hood and Judique to visit relatives.
She enjoyed her visits to the Mill Dam and Georges River during the summer months. She was one of the original members of the Mount Carmel CWL and could be counted on to show leadership in the many charitable drives in New Waterford and 14 Yard. She held many 'pound parties' at her home to assist families who required help during difficult times.
She was a stay at home mother who loved her family dearly. She took pride in remembering the names of her grandchildren, great-grandchildren and great-great-grandchildren.
Life will not be the same without her but the love we have for her will be tucked safely in our hearts.
The family would like to thank Dr. Emmanuel Ajuwon for his concern and care, Fr. John MacLeod, V.J. McGillivray Funeral Home, Hospice/Palliative Care Society of Cape Breton, and her niece, Sally Durando, who was her constant companion for many years.
There will be no visitation. Cremation has taken place under the care and guidance of V.J. McGillivray Funeral Home, 380 Smith Street, New Waterford. A celebration of life will be held on Friday, June 24 at 11 a.m in the funeral home chapel with Father Jim Oliver officiating. Burial will be in Mount Carmel Cemetery with a reception to follow at the Army, Navy, Airforce (downstairs). Masks are recommended at both the service and reception. Donations may be made to the Hospice/Palliative Care Society of Cape Breton (https://hospicecapebreton.org/circle-of-care/) or the Canadian Cancer Society in memory of Catherine Nemis. Online expressions of sympathy may be sent to the family at: www.vjmcgillivray.ca.
Share Your Memory of
Catherine
New Waterford

380 Smith Street
New Waterford, NS B1H 4K4

Glace Bay

16 Reserve St
Glace Bay, NS B1A 4V8