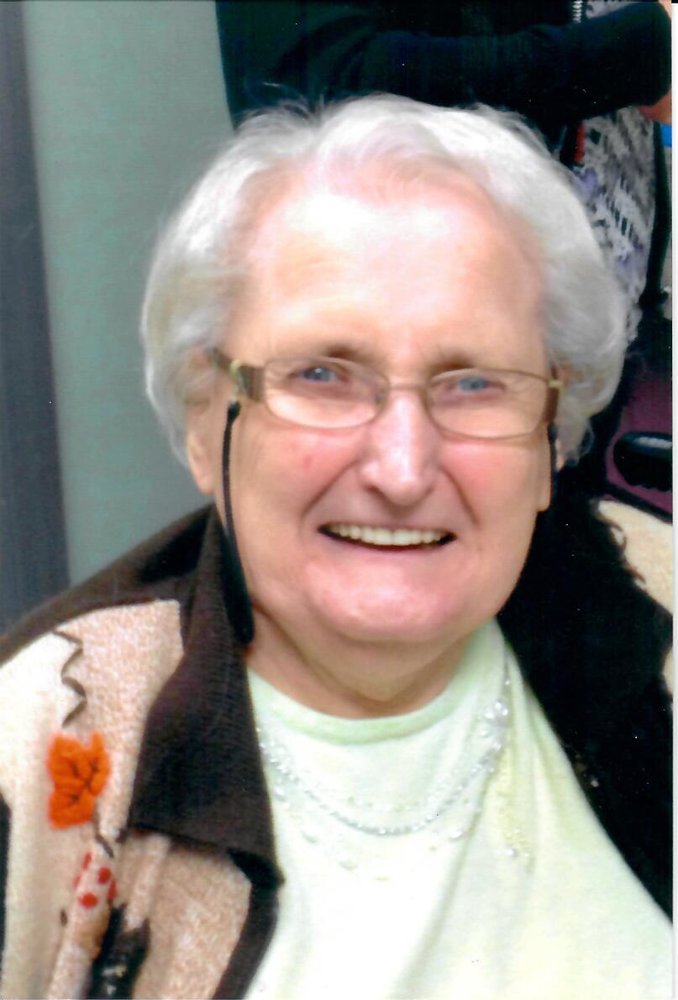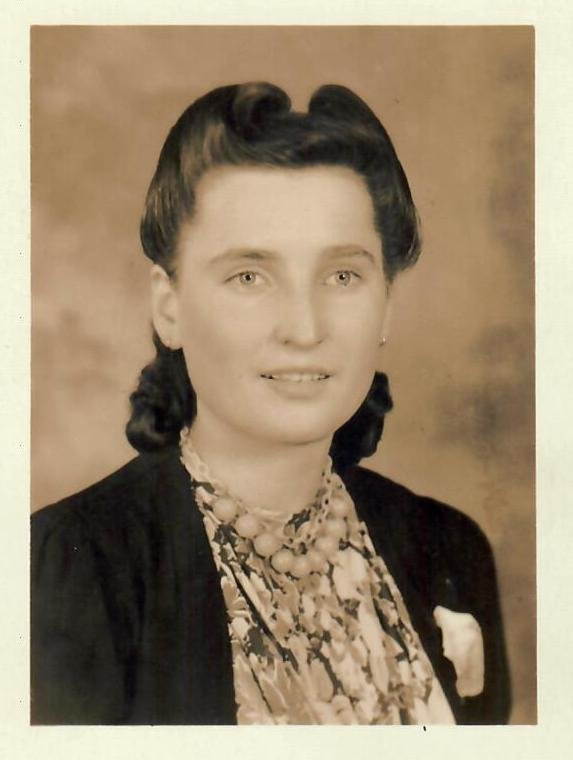 Obituary of Jean Hicks, Scotchtown
Born on 20 Dec 1923 in Gladbeck, Germany, passed away on 5 Aug 2017 in the Cape Breton Regional Hospital, Sydney NS.
She was the only daughter of Karl and Mary (Hajek) Chesal, both of Czechoslovakia, which prompted her to sometimes refer to herself as a Bogus Czech.
She immigrated to Canada with her family in 1923, settling in River Hebert where she grew up.
After high school, her first job was at the Blue Bird Restaurant in Amherst. It was while she was working there that she met and fell in love with Stanley Hicks. My dad often told me that it was love at first sight. They were married 20 Jan 1943 in River Hebert.
The following year they moved to Scotchtown, Cape Breton where they lived for 63 yrs.
Besides being busy raising 5 children (born in a span of 8 yrs), shopping for bargains to make ends meet, walking everywhere she went, she was active in the community and continuously learning new skills.
She served as Vice president and Secretary for the Home and School Association and on the School Board all the years that her children attended Scotchtown Memorial School. During this time she learned shorthand and typing to assist with her assignments.
She was an active member of Calvin United Church WA (Womens Association), and ran a Sunday School program in Scotchtown.
She was on the executive of the New Waterford Handcraft Guild and crocheted hundreds of doilies, table cloths, sweaters and afghans.
She was an avid bird watcher and gardener, a Lifetime Member and Executive Member of the New Waterford Garden Club. She spent countless hours and got great joy in turning her backyard into a lovely flower garden.
She was an artist. She loved to paint and was the President of the New Waterford Art Council.
She loved poetry, journaling and was an amazing record keeper. She loved to laugh, was a wonderful cook, homemaker, mother and friend. She will long be remembered for her prize winning smile and happy countenance.
She was predeceased by her parents, her only brother Tony Chesal, and the love of her life, Stan.
She is survived and greatly loved by her children, Karl (Kerry), Dominion, Tony (Judy) High Level AB, Don (Faye) Pictou, June (Lorne) Furlong, Truro, Linda (Rick) Watson, Rustico PE. Six nieces and nephews, 20 grandchildren, 38 great grandchildren and one great-great granddaughter.
A Celebration of Jean's life will be held for family and friends on Sept. 30, 2017, from 2-4 pm at V.J. McGillivray Funeral Home,380 Smith St, New Waterford.
A private family interment for both Jean and Stan will be held at a later date.
In lieu of flowers, donations can be made to the charity of your choice.
At this time, we would like to thank her friends and staff at Williston House and Parkland who have made her last few years so comfortable and enjoyable; and a very special thank you to her breakfast buddies who brightened every morning.
Online condolences to the family may be expressed at www.vjmcgillivray.ca