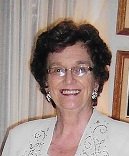 Obituary of Audrey MacDonald, Glace Bay
Mary Audrey MacDonald
Glace Bay
It is with great sadness we announce the passing of our beloved mother, Mary Audrey MacDonald on Friday, May 24, 2019, at Seaview Manor, with her children and son-in-law, Bill, by her side.
Born in Glace Bay in 1933, Audrey was the eldest daughter of the late Angus (Rannie H) and Mildred (Gillis) MacDonald.
Audrey is survived by her daughters, Mildred Lynn McDonald (Bill Murphy) Ontario; Carol Ann Cotter (Robert Cotter) Newfoundland and Labrador; son Brenton MacDonald (Sarah MacDonald), California, and her two young granddaughters, Sophia and Katherine, California, and step-grandson, Nathan Cotter, Newfoundland and Labrador.
Audrey is also survived by siblings Ronald "Buddy" MacDonald (Rosemary MacDonald), Glace Bay; sister, Judy Ann Donovan (Stuart Donovan) Glace Bay; along with many special cousins, nieces, nephews, godchildren, close family friends, and her Shih Tzu, Honeybear. Audrey was married to the late Earl James McDonald, Glace Bay, for 60 years.
It has often been said that Audrey was a true teacher deeply committed to the success of her students and always available with an encouraging word and beautiful smile. Most of her teaching career (31 years) was completed at Reserve District High School. In the early years, Audrey worked at the Vocational School in Sydney and at DOSCO, Cape Breton. She is an alumnus of both Mount Saint Vincent University, N.S. and Saint Mary's University, N.S.
Audrey was proud of her Cape Breton roots and a strong advocate for our cultural heritage. She was a voice of integrity and wisdom and was well loved and respected by others. Audrey had a great passion for music and an impressive memory for lyrics. In her later years, she could often be heard leading sing-a-longs at Seaview Manor. She loved to dance with her late husband Earl and always stole the show with a stylish new outfit just in from away. She also loved to travel and made many memories both in Cape Breton and abroad.
The family would like to thank everyone for their support, kind words, special stories, comical antidotes, and treasured memories. We're sending a special Thank You to the wonderful staff at Seaview Manor, her family physician, Dr. David Ley, her health companions, Christine Sheaves and Lynn McPhee, and all of the health care workers from the VON and Continuing Care who provided care along the way.
Funeral arrangements are under the direction of V.J. McGillivray Funeral Home, Chapel and Reception Centre, 16 Reserve Street, Glace Bay. Cremation has taken place. There will be no visitation.
A Funeral Mass celebrating Audrey's life will be held at 2:00 pm on Monday, May 27, 2019, at St. Anne's Church, Glace Bay with Fr. Norman MacPhee and Fr. Duaine Devereaux presiding. There will be a reception in the church foyer following the funeral mass hosted by Audrey's treasured friends and fellow members of the Catholic Women's League (CWL).
Online condolences to the family may be expressed at www.vjmcgillivray.ca