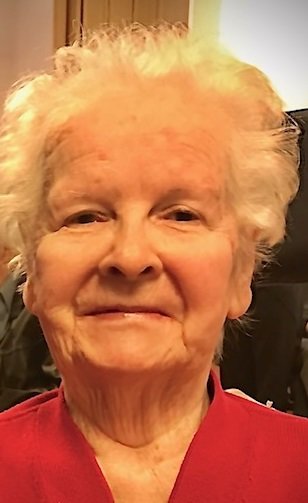 Obituary of Stella Marie Fortune,Glace Bay/Truro
At age 91, Stella Marie Fortune (nee McCarthy) died peacefully, surrounded by her family. Born in Sydney on April 26, 1928, she died at Wynn Park Villa in Truro on November 11, 2019. Stella was the last surviving member of her immediate family. She was the daughter of the late John (Jack) McCarthy and Catherine (Alexander).
Stella attended St. Anne School, Glace Bay and later Normal College in Truro. She taught in various schools in Glace Bay, but St. Anne School was her home for many years. While teaching, Stella upgraded her teaching license at the College of Cape Breton. She retired from teaching in 1992 and enjoyed traveling, playing the alto saxophone in the Glace Bay Community Band, singing in the St. Anne Ladies Choir, playing the piano until the age of 89, being part of the CWL (Catholic Women's League) as well as other church activities. She also loved spending time with family and made us all feel loved and supported in all ways. She loved to swim and walk, especially at Dominion Beach and loved to be near the water.
Stella is survived by her three loving children, daughter Lynn (Bill Kaulbach), sons Danny (Irene) and Stephen (Francine), her six grandchildren, Daniel Fortune, Meghan Swain (Adrian), Jennifer Bennett (Justin), Courtney Fortune, Cara and Adam Kaulbach as well as seven great grandchildren. She is also survived by her brother in law, Patrick McCallum and three nieces, Karen, Sandra and Joanne.
Besides her parents, she was predeceased by her husband of fifty years, Daniel Fortune and her sister, Patricia McCallum.
The family would like to thank Wynn Park Villa, North and East Wing for their exceptional care of their mother over the past four years.
Visitation is Sunday, November 17th from 2-4 p.m. only in V.J. McGillivray Funeral Home, Chapel & Reception Centre, 16 Reserve Street, Glace Bay.
The funeral mass, officiated by Fr. Duaine Devereaux is Monday at 10 a.m. in St. Anne's Church followed by a reception in the foyer. Interment will take place in the parish cemetery. On line condolences to the family can be expressed at: www.vjmcgillivray.ca
In lieu of flowers a donation in Stella's name can be made to a charity of your choice.
There are some who bring a light so great to the world that even after they have gone the light remains.