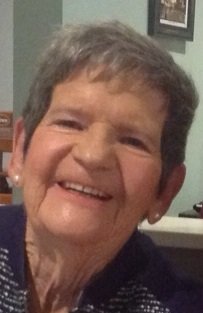 Obituary of Bernice MacDonald, Glace Bay
Bernice (Bee) MacDonald
Glace Bay
Charles Colton's proverb "Imitation is the sincerest form of flattery" would be the best characterization of Bernice's life. Renowned for her Faith, Courage, Grace, Strength and dignity Bernice lost her battle to cancer on Nov. 27th. at the Glace Bay General Hospital.
Contending with this assault on her body for the last seven years, Bernice, to her last breath (always the ultimate teacher) taught us by example to accept the things we cannot change and to face death with Unconditional Faith and true intestinal fortitude.. Always with an impish yet thankful smile which only took Bernice a nanosecond to bring to her lips; to her nurses and caregivers who needed that smile it will last us a lifetime. Never once did Bernice ask " Why me? Never bitter over her illness, never bartered for a better outcome nor never ever waivered in her Faith, she carried her Cross and accepted her illness as God's Will. To those of us who were Blessed to share especially these years with Bernice; by imitating her ways a wee bit each day will certainly make the world a better place.
Born in Glace Bay, Bernice was the only child of the late Thomas & Katie MacDonald. Being the only child gave Bernice an even greater love for her extended family and friends. The two ministries Bernice felt were the most important aspects of a true Christian were to comfort and visit the sick and to be a part of burying the deceased. At the age of 80+ it was amazing to see the reciprocation of that love by those there in her time of illness.
After graduating from Normal College in Truro, Bernice began her teaching career that spanned 40 years. The majority of her teaching days were between St Anthony's and St Michael's in Glace Bay. Bernice was the first female Social Studies Department Head at St Michael High. Always placing her students first this position afforded her a greater opportunity to order materials to enhance these students with more hands on material that exceeded their existing curriculum. Her last year of teaching took place in New Waterford between River Ryan and New Victoria where Bernice was Resource Teacher.
Bernice never considered teaching a "job" it was her life. She was honoured to have the ability to help mould her students to become good, kind and caring human beings. Bernice's love of her profession was only surpassed by the love she had for her students. Bernice was a genuine advocate of each and every student.
In her spare time Bernice loved to dance, sing, ski, curl, bowl and travel. One could say these were not done in her spare time as she looked after the bowling teams at St Mike's, took students to Ben Eoin ski hill and helped teach them to ski, chaperoned the dances at the High School plus formed mini choirs at St. Anthony's where various schools competed against one another. Bernice's smile always broadened when the St Anthony students won many of those competitions.
Bernice was a lifetime member of St. Anne's Church as well as a member of their Ladies Choir. She was also a member of the Retired Teacher's Association and she delivered Meals on Wheels for 25 years. Bernice played a major role on the Jeux Canada Winter Games. Bernice loved to play her piano and eagerly awaited her weekly lessons with Mario which she fit in between her gym, exercise programs, swimming, walking plus working in her yard ~ she truly was a busy bee!
There will be no visitation as cremation has already taken place under the direction of V.J. McGillivray Funeral Home, Chapel & Reception Centre, 16 Reserve Street, Glace Bay.
Bernice's funeral mass will be held at St. Anne's Church on Thursday, December 5th at 10 am. with Fr. Norman MacPhee Officiating. A luncheon will be held in the Foyer of the Church following the funeral mass. Bernice always said "my funeral mass will be a celebration of my life" Now we celebrate Bernice's best journey leading her into the hands of her Loved ones and her God.
Special thanks are extended to Dr. James Maclean, Dr. Ashim, Dr. Miller, and Dr. Spencer. To the staff of 3rd South at the Glace Bay General Hospital, there are no words to express our thanks for the care, love, compassion and empathy extended to Bernice. Each beautiful gesture from the tap on her hand, to the touch on her cheek, each smile and kind, hopeful, word meant the world to her. Hence why she referred to you as her personal angels & her "extended family," Each of you will forever soar in her loving heart as you will always hear her whisper "thank you". Donations maybe made to a charity of ones choice.
" Don't cry because life as we knew it is over, Smile because it happened'.
On line condolences to the family can be expressed at: www.vjmcgillivray.ca