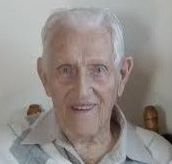 Obituary of Roy McCormick, Glace Bay
Roy Cavell McCormick, 1919-2017
Glace Bay

After a life well lived, Roy, age 98, closed his blue eyes for the final time on Monday, June 26th, 2017. Roy was born on the 23rd of March, 1919 in Glace Bay, the son of the late Thomas McCormick and Mabel (Bond) McCormick.
At the age of 15 Roy began a full-time career as a Baker at Phalen's Bakery. He remained there until 1942 when called to duty as a member of the Royal Canadian Artillery. When he returned home in 1946 he resumed his role at Phalen's. In 1966 Roy began a new career as Manager of the Glace Bay Chicken Chalet, where he remained until his retirement in 1984.
Roy was a long-time member of St. Anne's Men's Club and contributed to all aspects of Parish life. Roy with his wife Rose was an active community volunteer. They enjoyed a 31 years association with Boy Scouts Canada, serving both as Leaders and Trainers. Their involvement in the Old Town Hall Museum was very special to them. In 2002, they received the Queen's Jubilee Medal for a lifetime of community service and volunteer activities.
Roy is survived by his wife of 74 years, Rose (Madden) McCormick, sons, Robert (Margaret), Brian (Sheila), Kerry (Kimberly) and his daughter, Delia (Darryl Axford).
Also surviving are six grandchildren, six great grand children, his sister, Hazel Sherwood, sister in law, Margaret Gillard, many nieces, nephews, special friends and family by choice.
Besides his parents, Roy was predeceased by brothers; Aylmer, Jackie (Doris), Paul (Ethel), brother in law, Joe Sherwood and sisters, Cleo (Wilson Ralph) and Mary Alice as well as infant daughter, Rose Mary and grandson, James Axford.
And to those kind and supportive members of New Waterford Homecare Service, the VON and Palliative Care staff who cared for Dad and made it possible for him to remain at home, we offer you a profound thank you. Each and every one of you made a difference in his life.
"Don't cry because it's over, smile because it happened." Dr. Seuss
Visitation will be held on Thursday from 4 p.m. to 8 p.m. in V.J McGillivray Funeral Home, 16 Reserve Street, Glace Bay.The funeral mass officiated by Fr. Anthony O'Connor is Friday at 11 a.m. in St. Anne's Church followed by a reception in the church foyer. Interment to follow in the parish cemetery.
Family flowers only. In lieu of flowers please consider making a memorial donation to the Glace Bay Heritage Museum. On line condolences to the family can be expressed at: www.vjmcgillivray.ca