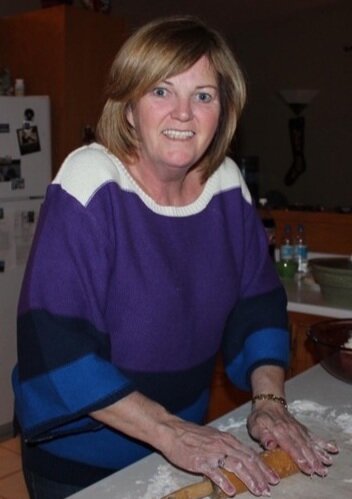 Obituary of Paula MacIsaac: Calgary,Victoria Mines
Please share a memory of Paula to include in a keepsake book for family and friends.
It is with heavy hearts and great sadness that we announce the peaceful passing of our beloved mother, nanny, sister, aunt and friend, Paula Marie MacIsaac (Muise) on Wednesday, May 4th, 2022 in Calgary, AB. Mom spent the last year of her life surrounded by the love of children and grandchildren in Calgary. Mom died as she lived, with peace, love and dignity.
Born in New Waterford, NS, Paula was the eldest daughter of late Alexander "Goonie" and Frances "Fran" Muise.
A graduate of St. Agnes High School and St. Martha's School of Nursing, Antigonish NS, mom was a nurse for 40 years. Her adventurous career took her to Halifax, NS, New Port Beach, California and finally she settled back in her hometown to finish her career at New Waterford Consolidated Hospital. A true nurse, her gentle kindness provided comfort and compassion to those she cared for.
Mom's unconditional and selfless love for her whole family was always at the center of all she did. Paula was not only a wonderful and loving mother of four children but a second mother to many. Her home was always a safe haven for all to share love, laughter and tears. Mom's profound strength, courage and words of wisdom prepared us to go on without her in our journey of life. "The Paula" as she was so lovingly referred to by her daughter and many of her friends loved nothing more than packing her suitcase to go visit her children and grandchildren, or to head south with her sisters and kids. Paula loved a good sing-song on "the hill," a cold beer at the kitchen table with family and friends, and a good afternoon in the kitchen baking her delicious treats with her granddaughter.
Paula is survived by John MacIsaac, New Waterford and their children, Melissa (Steve) Vines, Ian (Christina) MacIsaac, Matthew MacIsaac, all of Calgary and Rebecca MacIsaac (Jonathan Stewart), Dartmouth; her two grandchildren, the light of her life, Katelyn Marie Vines (Melissa and Steve) and Aaron John MacIsaac (Ian and Christina); siblings, Glen Muise, Kevin Muise, Anne Louise (Phil) Dade, Shelly (Billy) Petrie, Bradley (Janet) Muise, Bernadine Muise (Stevie Ferguson). Paula had many nieces and nephews which she truly loved as her own.
She was predeceased by her brother, Charles"Chuckie" Muise.
Cremation had taken place in Calgary, AB and a Funeral Mass of celebration will be held in the Parish Church of St. Leonard, New Waterford, on Thursday, August 18 at 10 a.m. with Father Godwin Obike officiating. Burial will be in St. Alphonsus Cemetery with a reception to follow at the Army, Navy, Airforce, New Waterford. Funeral arrangements have been entrusted to V.J. McGillivray Funeral Home, New Waterford. Online expressions of sympathy may be sent to the family at: www.vjmcgillivray.ca.
God saw you getting tired
When a cure was not to be.
So He wrapped His arms around you
And whispered, "Come unto me".
You didn't deserve what you went through,
And so he gave you rest.
God's garden must be beautiful,
He only takes the best.
So when I saw you sleeping,
So peaceful and free from pain.
I could not wish you to come back
To suffer that all again.